Personalized Weight Loss Program
Our internet coaching program offers a unique level of personalization and brings a new dimension to the Dukan Diet: the daily follow-up. All diets can be efficient short-term. The method must fit each individual and on a daily basis for it to be effective over time, and ensure weight maintenance.
Personalized coaching and diet plan
The Dukan coaching is based on 80 personal questions, to help give you a personalized program.
The Dukan Diet Weight Loss Program is personalized and the information provided during the completion of the online form is the responsibility of the dieter. The Dukan Diet provides a Weight Curve according to the goals of the dieter, but the results achieved may vary with each individual.
A personalized slimming program: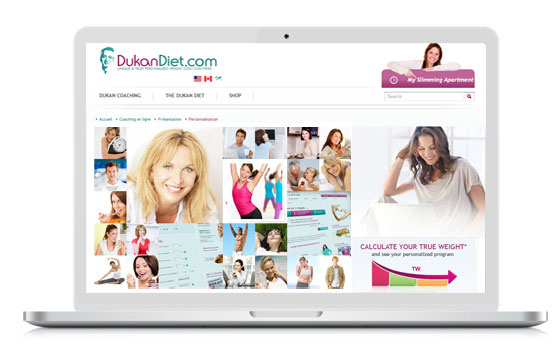 The personalization starts as soon as your True Weight is calculated! The 11 parameters will give you an initial analysis of your needs.

1. Is the weight you want to be your True Weight?
2. How long will it take me to lose the extra weight and what will be the phases to follow?
3. What will be the cost of my coaching program?
The detailed nutritional profile:
Our first priority will be to know you better through your weight history. Your coaching starts with the detailed nutritional profile based on 80 precise questions, the "Personal Questionnaire"*.

Your answers will allow us to establish your complete weight loss report. This report, available in your Slimming Apartment, will take the shape of your weight loss personality, with your weaknesses and strengths which will need to be reinforced and corrected in order to stabilize your new weight. That same report will be the key to your individual and personal coaching until you reach your True Weight and consolidate it long term.

*The "Personal Questionnaire" takes into consideration your weight loss history, heredity, morphology, physical activity, food intake, favorite foods, social and domestic environment, and finally motivation.
The continuous updates of your settings:
What sets the Dukan Diet coaching apart is the daily interaction that you get. Each night, you fill out your report and each morning, you will receive your instructions, updated accordingly with the information you reported the night before.

In addition to these unique tools, our Dukan Diet team is here to listen and advise you in any concern without limit, thanks to the personal email option.