About Dukan Diet Coaching
Dr. Pierre Dukan has developed a unique online diet coaching program to maximize the effectiveness of the Dukan Diet. Dukan Diet coaching's major innovation is customized daily interaction that leads to the stabilization of your True Weight.
Personalized weight loss coaching support
Dieting without support is a fight - against obesity, against society, against your own body - against all parts of yourself. The struggle to regain the slimmer body you deserve is too often unsuccessful as 8 out of 10 people who start a diet eventually regain the lost weight within a year.

This is an unacceptable failure. Dr. Dukan has created his weight loss coaching program to help you put an end to being overweight, forever. True daily diet coaching is our strength. We never give up on you. Take control of your own health and join the Dukan coaching program.
Before starting the Dukan Diet Weight Loss Program, consult your physician or other healthcare professional. The results achieved may vary with each individual.
*The weight loss program offered by the Dukan Diet offers health and nutritional information and is designed for educational purposes only. It does not replace consultations with nutritionists, doctors, psychologists and/or other healthcare professionals. This program is not intended for people with diabetes dependent on insulin, who have eating disorders, problems with renal heart failure, depression, or for pregnant or breastfeeding women. If you suffer from any of these conditions, please visit a doctor, nutritionist and/or other healthcare professionals before starting any nutritional programs. Individual results may vary. Click to learn more.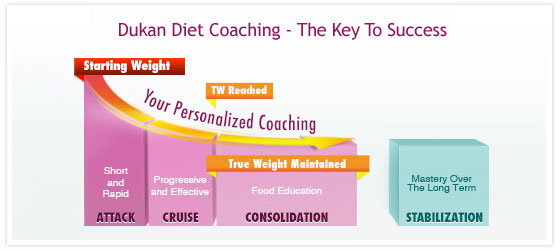 1. Personalized Weight Loss Coaching
Dukan Coaching is the only weight loss coaching that is truly personalized for permanent weight loss. We tailor our approach to your profile and lifestyle, which is essential to your long term success. Before you start Dukan coaching, you will need to find your True Weight, then answer 80 questions that will help us precisely define your program in detail. It will be adjusted daily based on your reports back to us.
2. Daily monitoring and interaction
The heart of Dukan Diet coaching is a unique Daily Email Return Technology system, an interactive loop that helps us keep in touch with you. Every evening you will report about your day - your physical activity, weight and measurements, motivations, frustrations, food lapses and any foods you miss. Every morning you will receive precise instructions based on your answers from the night before.

You'll start the day off right with motivation, food and physical activity instructions. Follow our advice and encouragement each day to reach your goal!
3. Your Slimming Apartment and coaching tools
The Slimming Apartment is your own personal space, with your secret corner, kitchen, lounge and gym. These rooms will give you access to helpful hints, tools and more than 600 Dukan recipes:
4. A diet coaching program to lose weight AND keep it off forever
We offer a unique and comprehensive weight loss coaching program, which includes the first three phases of the Dukan Diet, to reach and consolidate your True Weight. We commit to see you through to consolidation of your True Weight and we will not abandon you in the moment you would most need support.

A successful diet is one where you don't regain the lost pounds! This is why the price of your personalized diet coaching program is defined after calculating your True Weight. If it takes more time to reach your True Weight, we will keep assisting you and will extend your program at no additional cost.