Dukan Diet Cost
Dukan Diet coaching is the only weight loss program in the world to offer complete daily support, from your weight loss to the stabilization of your True Weight. The two weight loss phases and the Consolidation phase are included. The Dukan Diet coaching cost is based on your customized program.
Dukan Diet Coaching Cost - An Affordable Weight Loss Plan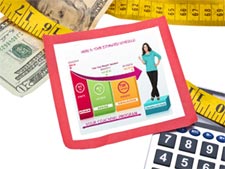 Calculate your True Weight and discover your personalized weight loss program. This weight loss plan shows the duration of each phase, with the associated weight loss and the total Dukan Diet coaching price.

You'll get a full coaching program with a daily, interactive and personalized monitoring for the first three phases of the Dukan Diet: Attack, Cruise, and Consolidation phases.
The cost of coaching varies depending on your profile and program. It is individualized to meet your needs. Calculate your True Weight to see your weight loss program.

No Additional Fees
If it takes you longer to reach your True Weight than your weight loss schedule showed, don't worry, there are no additional fees. Your program will automatically extend until you reach your True Weight and we will help you be successful

Your Dukan Diet cost is a fixed price, which includes your full diet coaching program from the Attack through the Consolidation phase to help you reach and consolidate your True Weight. No other weight loss program offer this!

Learn more about how our online weight loss program can help you.