Obesity Epidemic
Statistics on Obesity in America - What You Should Know
The obesity epidemic is a result of lifestyle changes brought on by the easy availability of food, inexpensive unhealthy convenience foods and government subsidized foods, as well as a decrease in physical activity.
Overweight Rates In Developed Countries Around The World*

"To me North America represents the ultimate test of the Dukan Diet…" - Dr. Dukan
The United States leads the way in obesity percentage with more than a third of the population considered obese. Canada is also at the top and a large portion of European countries show surprising growing numbers. France and a handful of its neighbors maintain decent rates, while Japan is the lowest.
Percentage of Obese Population by Country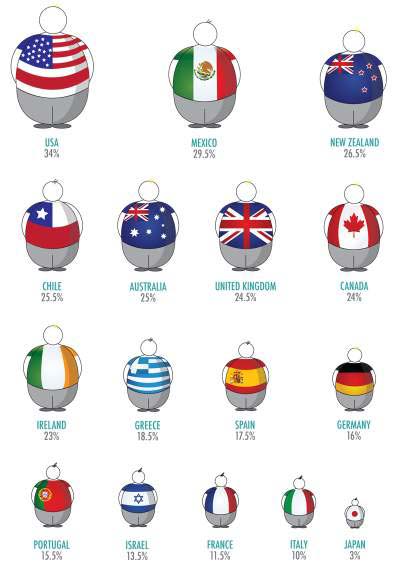 "…Americans are at the forefront of technological progress and also at the forefront of one of present-day civilization's major afflictions--being overweight". – Dr. Dukan
The overweight rates in America have also grown, with overweight and obese people projected to be 74% of the population in 2020.
Obesity in America Facts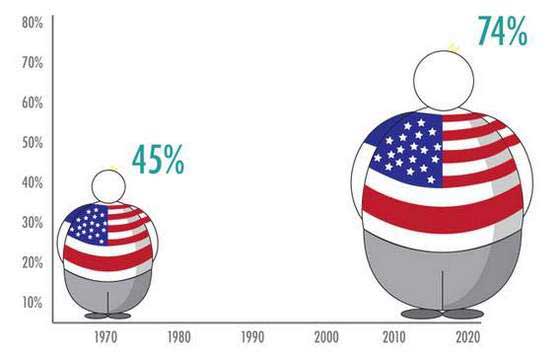 "America's consumer society has brought riches and power, but also weight problems for which you are paying the highest price…" – Dr. Dukan
Obesity has a severe economic and personal impact on individuals and affects how much money you make and your healthcare costs while it shortens your life.

While most diet and weight loss programs fail, the Dukan Diet was created to reverse the conditions of overweight and obesity.
Dr. Pierre Dukan has been working for the past 35 years against these trends and he personally helped more than 40,000 patients. The Dukan Diet has helped millions around the world find the way to lose the weight and live better lives. Joins us today and be part of the Dukan Diet Community.
"Take this method, make it your own, and show the world how to reverse the pattern of excess weight and obesity." – Dr. Dukan
Get started today by clicking the Dukan Diet True Weight Calculator!
*Source: OECD: Obesity and the Economics of Prevention: Fit not Fat by Franco Sassi 2010
For more information click here.