Key Dukan Diet Products
We are constantly developing flavorful Dukan products that are organic, low carb, low fat, healthy and maximize weight loss! Whether you are looking to lose weight or stay healthy, our Dukan Diet products will help meet your needs.
Key Dukan Diet Products for weight loss success
Stevia is a 100% natural calorie-free sweetener. Use it to sweeten beverages, snacks, and in various recipes. It helps fight sugar cravings and does not have a bitter aftertaste. Unlimited in all phases.
300 times sweeter than sugar
keeps its flavor in both hot and cold beverages
does not affect blood glucose or insulin response – great for diabetics
inhibits the growth of some bacteria, including those that cause tooth decay and gum disease.
Appetite & Fat Control is a supplement that can help you break through plateaus or stagnation. The ingredients listed below help increase metabolism, the breakdown of fat, and helps suppress the appetite. Use as directed in all phases.
Apple cider vinegar:
reduces water retention
reduces joint pain and stiffness
improves skin appearance
reduces blood sugar levels
Apple fiber:
helps to eliminate toxic metals, such as mercury, cadmium and lead
Apple pectin:
regulates bowel movements
improves the absorption of nutrients
helps lower cholesterol levels, which may help to reduce the risk of coronary problems
removes toxic metals from the body before they are absorbed
Dukan Diet™ Multivitamin is an effective and balanced multivitamin for those requiring extra nutrients while dieting. It has been formulated with a full spectrum B-complex with the active form of Vitamin B12 (Methylcobalamin) to support stamina and energy in dieters.
It also contains the antioxidant Grape Seed Extract to support cardiovascular health, Vitamin D3 to support strong muscles and bone, and biotin to support healthy hair, skin, nails and blood sugar levels already within the normal range. As directed in all phases.
Why It's Important to Take a Multivitamin?
To be healthy, as our bodies are incapable of manufacturing their own Vitamin C internally.
Many foods have lost minerals due to mineral depletion of the soil.
Vitamins replace nutrients lost during food transportation, storage, processing and cooking.
Vitamins compensate for the extra nutritional demands created by junk foods, refined sugar, alcohol, caffeine and prescription drugs.
Vitamins help support the body against stress, pollution, and demanding lifestyles.
To compensate for inadequate physical activity.
To compensate for digestive weakness and/or unusually high needs for specific nutrients.
Benefits of the Dukan Diet Multivitamin:
Comprehensive B-vitamin formula containing the active form of B12 (Methylcobalamin), not the synthetic form called Cyanocobalamin found in most multivitamins.*
800 IU Vitamin D to support bone and immune health.*
Grape Seed Extract to provide antioxidant protection.*
800mcg of Biotin to help support healthy hair, skin and nails while dieting.*
Iron-free formula.
* These statements have not been evaluated by the FDA. This product is not intended to diagnose, treat, cure or prevent any disease.
Shirataki Noodles are also known as yam noodles and are low in carbohydrates and calories. They slow digestion and help prolong the feeling of fullness and can also help with constipation. Unlimited in all phases.
Recipe: Dukan Shirataki Marinara
For 1 person - Attack phase PP - Preparation Time: 3 min - Cooking Time: 5 min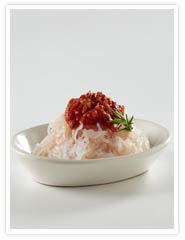 Ingredients
Directions
Rinse Shirataki noodles well under cold water in a colander, drain and dry with paper towel.
Add marinara sauce and heat in a small pot for 5 minutes or microave for 1-2 minutes and serve.